Here is the latest update from one of our angels Paola who is taking care of the children in the orphanage.  She is truly an angel and a beautiful shining star on this earth.  Her mission is to love on these kids and be the "mom" at the orphanage.  If you can, please shower her with love on Facebook.  Here is the latest update on the kids who are staying at the 2nd orphanage which many of you helped us sponsor through your kind and loving donations:
If you want to donate to the orphanage, we are fundraising another $20,000 for our July visit!  Here is the paypal link:  https://www.paypal.com/cgi-bin/webscr?cmd=_s-xclick&hosted_button_id=WCLS4GQWDKX6W
Or CLICK HERE

A letter from "Paola" our beautiful mother hen at the orphanage (please note she is only 28!!)   Wow…what a beautiful spirit of contribution…in Paula's own words (translated to English)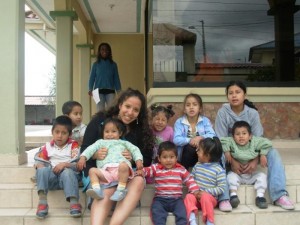 "The last week of January we received 22 new kids all in one day!  The government closed down an institution due to bad management and they asked us to take care of the kids.  We said yes, but we told them that we were going to start building the new (2nd) house in mid-February or March and they said that would be fine.  That being said…we started receiving notices from the judge saying that the children from that institution had to be taken by us immediately — to our orphanage "La Esperanza" (Hope).  The communication between the government and these intitutions sometimes is not at its best, I believe these judges thought that these kids could transition to our orphanage but we were not ready yet because the second home had not been built yet and our first home was full with 28 children.
That is how we had to accept all those children in the first home, along with the 28 we already had!  So we are a little tight, but we are happy.  Can you imagine 51 people living in one house!  Ha ha it is beautiful chaos!
Well, I no longer have a room I had to fix it to make a room for the girls…we are all very very tired, but at least we were able to get some additional help to help us take care of the kids…for the kitchen, laundry, cleaning,  we have a total of 12 new people helping us out!  We are are all working very hard, because these 22 children came in very bad condition…they didn't have discipline, they were sick, not doing well in school, etc…well everything has happened so fast.  I am running at full every day…helping deal with the contracts, budgets, purchases, etc…well, I was just able to buy some mattresses, beds, blankets, pillows, towels, fridge.  I still need to buy a kitchen, tables, chairs, sofas, dining table, wow, there is still a lot to do.
Hopefully through God we will be able to move the kids to the second house!  We will take 26 children there, we still have a lot of coordination.
I would like to take this opportunity to thank you all so very very much for everything you are doing for the kids.  Thanks to all of you and Galo's angels we have been able to purchase all these things for the new house and thanks to the donations we will be able to move to the new house!  The new kids are beautiful!  The cases are more difficult than what we already had.  We have two brothers 5 and 4 yrs old that their mom is going to be in jail for 16 years.  There are 3 brothers that their mom and dad died as alcoholids (the mom died a few days back, it was very sad to see how they suffered, but it was great to be there to love on them) and just like that there are many other cases I will let you know more details later.
I am sorry for not having writen you earlier, I will send you some photos will take better ones later.  This week we will be moving – can't wait to tell you all about the new house!  Please pray for all of us so that God will be with us and protect us every step of the way…so that God can help me as I make decisions which will take knowledge.  And for God to guide me in everything I do, and so the kids will feel loved and protected.  May God bless you all, Paola Hermosa (Our Mother Hen and loving worker at the orphanage)"
If you are touched by Paola and the new family of 50 kids at the two orphanages in Ecuador (Cuenca), we are taking donations to finish the other $20,000 for the completion of all the purchases and necessities at the new home.  Right now they are living with the bare essentials.  When we go there we will also purchase more supplies and things the kids need (easier to buy there than pay shipping costs or transportation).
To donate, any amount from $1.00 to anything your heart desires to donate –  all of it is going to the orphanage we are donating all the administrative costs so that 100% of all donations go directly to the orphanage.
DONATE HERE THROUGH PAYPAL OR cut and copy this link
https://www.paypal.com/cgi-bin/webscr?cmd=_s-xclick&hosted_button_id=WCLS4GQWDKX6W
You can also send a check payable to
FAMILY HEALTH FOUNDATION
and mail to the following Post Office Box:
Livin' Full Time, Inc. – 3308 Preston Road  #350-222, Plano, TX 75093.
100% of money collected will be paid in one amount to the foundation and tax deductible for yourself.   Once again, our goal is to raise enough money to complete a home in Galo's name and complete his mission.  With your heart, we will!