Okay okay…so I'm a couple of blogs behind on my 28 day blog challenge…boy I"m going to have to work overtime on something that brings me so much joy 🙂
Today I wish to talk about dreams coming true.  Just 9 years ago I was an insecure government employee who worked her way through the corporate world in the City of Burbank, started as an Intermediate Clerk and grew my way to Economic Development Manager, a ten year journey that was amazing, but also full of challenges, long hours and never seeing my husband who was an LAPD officer at the time.  I worked 12 hour days and he worked 12 hour nights so we always missed each other coming home.  We were severely indebt and never planned for our future correctly.
Then we went to a Tony Robbins seminar which inspired us beyond belief…we realized there was more to life, to us, to our future…I wrote down in my goals at that event that one day…one day…we would leave our jobs to start our own business, live our passion, find our purpose…and one day get to share with others our humble story from rags to riches…see, I lived in a one room apartment with my family when we moved to the USA.  There were four of us living in one room and my parents went through major chaos and sacrifice just to put food on the table.  I was sixteen years old and remember hiding in the bathroom when the church came to bring us Thanksgiving meal because we couldn't afford it and I didn't want them to see me…
That's where dreams started…little by little I worked on myself (they say your income follows your personal growth) and then I went to more personal development seminars, I joined an amazing project that would empower thousands of people to travel the world at wholesale and create magical moments in their lives…and the rest is history!
We now own our own business (multiple ones), live in a beautiful loft in Hollywood overlooking the Hollywood hills and downtown LA, drive a car we can't pronounce…but the most important part of the story is we were able to contribute and help open an orphanage in our dad's honor in Ecuador after he passed away.
This little Latin girl who was born in Queens never thought she would be empowering others to believe in themselves.  But that has become my mission in life.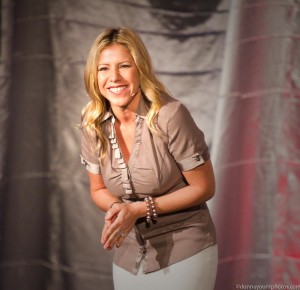 Just today I got invited to speak in Vegas in front of close to 8,000 next week and help empower people that are flying in as far as South Africa & Singapore.  This little girl's dream has not only come true but it's growing so fast that I'm enjoying the journey to the highest!  Thank you to all those who believed in me…and to those who didn't…here you go.  Your lack of belief fueled me with strength to keep going and hopefully my light will shine bright in your life to inspire you too.
Grateful to have found light in my tunnel…