30 DAY CHALLENGE by Dave and Yvette
This is a sample of the 30 day challenge and just a few tips that will help you get shredded for your upcoming summer vacation.  We will continue to provide more detailed information on workouts on nutrition that has created and maintained the health results in our life.
COMPLETE THIS CHALLENGE 30 DAYS BEFORE YOUR VACATION:  WATCH YOUR ENERGY GO UP, YOUR POUNDS GO DOWN, AND YOUR CONFIDENCE BLOW UP!
EXERCISE – master this daily action!
NUTRITION – you are what you eat!
EXERCISE
Commit to at least 20 minutes of some type of exercise 6 days per week.  Take 1 day off and do it for 4 weeks (30 days).  Shock your body and your muscles with different workouts every day.
Walking
Jogging
Hiking
Gym Weights
Sports
Crossfit
Video workouts
Push ups / Sit ups
Plyometrics
Walking up / down stairs
Bike
Treadmill
Swimming
TIP:  The longer you work out and the more active the workout, the more shredded you will get.  To accelerate the results, for example, the week before vacation I will run 3 miles vs taking a 20 minute walk.  However, simple daily acts compound to great results.  At least commit to the 20 daily minutes.
NUTRITION
We start every day with a Power Shake – every morning for 6 days per week (find our personal recipe at www.healing-blog.com/supershake all ingredients you can buy at the market)
SAMPLE EATING SCHEDULE (FOLLOW FOR 30 DAYS)
MUST EAT EVERY 4 HRS OR YOUR BODY STORES EXTRA FAT
7:30 am – Breakfast Power Shake
11:30 am – Lunch – 1 lean protein (Chicken, turkey, egg whites, fish) (size of your palm) plus 2 vegetables (spinach, cucumbers, radishes, asparagus, any leafy green) (Size of your fists)
3:30 pm – 1 lean protein plus 2 Veggies – add one healthy carb only if you plan to work out! (ex. ½ cup brown rice, quinoa, ½ sweet potato, oatmeal, oats, 1 slice of multi grain bread)
5:30 pm workout (Refer different types of workouts)
7:30 pm – 1 lean protein plus 2 veggies (add one healthy carb only if you worked out!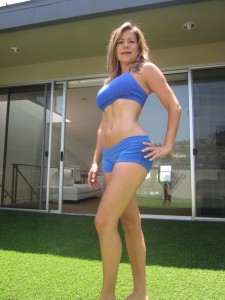 SAMPLE SNACKS IN BETWEEN:
If you need a snack in between here's some healthy sample snacks you can have:
*            6-12 almonds (raw, unsweetened, read labels)
*            Non-fat Greek Yogurt (you can sweeten with stevia)
*            Protein shake (small) (Avoid sugars and sugar replacements, best sweetened with stevia)
*            Carrots and salsa
30 DAY CHALLENGE SUCCESS TIPS:
You MUST eat every 4 hours (or less).  Do not let your body go longer than 4 hours without eating, or it will start storing FAT.
You get two healthy oils a day (your body needs them)  one teaspoon of olive oil, grapeseed oil, udos oil, or half an avocado counts as one serving.  You get two a day so use sparingly!
It is much better that you eat your vegetables raw or steamed
Eliminate SUGAR!  Sweeten your tea or make home made lemonade with stevia (be careful though, not Stevia in the Raw brand as they have dextrose) Read the ingredients carefully must be pure stevia
Hydrate:  HYDRATE:  ½ YOUR BODY WEIGHT IN OUNCES (add lemon to water) or drink alkaline water, Essentia is the best.  2nd best is Fiji or Smart if you are buying at the store.
ABSOLUTELY NO RED MEAT, try to eat organic chicken, eggs or wild fish.  Of all toxic chemicals found in food, 95 to 99% come from meat, fish dairy and eggs.  Food and drug administration found that bacon had 48 different pesticide residues, luncheon meats 102, fast food hamburgers 113.  The US uses one billion lbs of pesticides every year on our food, plus the growth hormones.  Every time you eat factory farmed meat or dairy, you are eating antibiotics, pesticides, steroids and hormones.
ELIMINATE DAIRY (The undigested lactose and the acidic nature of pasteurized milk encourage the growth of bacteria in our intestines, which contributes to greater risk of cancer because cancer cells thrive in acidic conditions).  Substitutes:  organic rice milk or almond milk.  There are conflicting reports about soymilk.
ELIMINATE THE POISONS (ALCOHOL, NICOTINE, CAFFEINE, ESPECIALLY RED BULL & COFFEE)  Herbal teas are okay without caffeine.
ALKALIZE YOUR BODY– GREEN POWDER, CHLOROPHIL OR VEG JUICE (1 OR 2 A DAY).  You can buy Super Greens at Wholefoods online shopping or your local health food store and add the green powder to your water.  This alkalizes your system and gets rid of the acidic environment in which toxic bacteria and fungus live! (yes this happens in your body).  If your body is acid, you are building more fat.  If it's alkaline, you are cleansing your body and flushing out the toxins.
GET RID OF FRIED FOODS