Yvette Ulloa, the fiery Latina was born in NY and currently lives in California. Yvette's greatest passions in life include the love of her life Dave Ulloa, creating magical moments and experiences for people, health/fitness, travelling the world full time through Worldventures Dreamtrips, and teaching others to achieve success!
Yvette Ulloa and her husband Dave Ulloa started their journey with WorldVentures , one of the top 100 global companies in the world for direct sales, 9 years ago and have lived a life of total fun, freedom and fulfillment.   They were the first ever Latinos to achieve the rank of International Marketing Directors and are so grateful for changing their lives from being a police officer and government employee to self-made millionaires, lovingly called The Blue Collar Millionaires.  Here is a link to one of their favorites blogs by a great friend and mentor, Byron Schrag, with their story.  One of Yvette Ulloa's favorite events is The View, this year being held in Atlanta
Yvette Ulloa has been through a journey of challenges, however they have turned out to be some of the biggest blessings in her life. She has been happily married for 14 years to the love of her life Dave Ulloa, a former professional basketball player in Australia and self-made entrepreneur. Yvette's philosophies are all about contribution, sharing lessons from her journey with others, and she is lucky to travel around the world inspiring people with her story. She has spoken to audiences as big as 12,000 in Vegas, South Africa, Hungary, Greece and many other places, where she is highly acclaimed speaker and coach.  Yvette has a beautiful love for people which she is able to express daily through her job of empowering people to believe in themselves.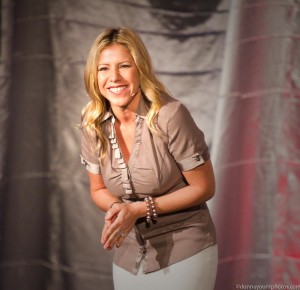 In 2010, Yvette Ulloa and her husband Dave Ulloa achieved one of their life-long dreams to travel the world with Anthony Robbins and become Platinum Partners. They got to experience a whole year of immersion in Scotland, Egypt, Israel, Fiji and get personally mentored by Tony Robbins.
One of Yvette Ulloa's biggest passions is helping women around the world to believe in themselves and have a voice. She will reach out her hand to you to help you climb up to the top of the mountain! And nothing like enjoying the journey and making many pit stops to smell the roses, but also embracing challenges and chaos that come your way.  Yvette Ulloa and Bethany Webster led the first ever spa dreamtrip and an empowering weekend for women from all over the country.
A couple of years ago, Dave's dad tragically passed away in a truck accident.  He was Dave's hero in every way possible.  As a deli man, he worked three jobs and before he died he had paid off his house in Burbank California.  He was one of the proudest Americans in his thick Ecuadorian accent.  In his honor, Dave and Yvette Ulloa built an orphanage in Cuenca Ecuador, La Esperanza which at its peak times housed 65 children in 3 homes.  This was one of the first Worldventures Foundation voluntour trips.  The Huffington Post  recently published an article about the bottle schools we are building in Guatemala, read the article and join us on a future dream voluntour vacation!  It's a new way of traveling the world, vacation on purpose!!
Dave and Yvette also lead the Los Angeles Tony Robbins meetup  and create magical experiences for meetup members including fun events, contribution projects (they recently went to a Senior home to donate their time and love) and learning evenings where they bring top speakers in the transformational personal development world.  The Huffington Post recently published a meetup article about Dave and Yvette Ulloa and their meet ups and how transformational they can be to your career.
You can connect with Yvette Ulloa on  Facebook and Twitter, but her favorite has now become Instagram.  She does not hang much on  Pinterest but every once in a while she will pin some cool things!
Yvette Ulloa also has a beautiful healing blog.  Half way through her journey with WorldVentures, Yvette was diagnosed with a deadly tumor in her jaw.  They were going to do surgery and after three surgeries, $150,000 cost and wiring her jaw shut for nine months, perhaps there would be hope to recovery.  Yvette Ulloa chose the alternative route and years later, the tumor has been completely contained and she didn't have to do the surgery.  Follow Yvette's Healing Blog for inspiration and her journey.  Her healing blog has helped thousands cope with difficult situations in their life through positivity, prayer and alternative routes.
Are you ready to have more fun in your life?  Then go check out her travel blog!!  Yvette spends most of her time traveling, speaking to audiences all over the world, and helping people experience more magic in their lives.   See her youtube channel for lots of free tips, travel journeys and lots of exciting information!   Drop her a note on her Facebook any time, she would love to hear from you!!
Dave and Yvette Ulloa, Worldventures IMD's currently reside in California and are traveling all over the world. They are two of Worldventures most loved and highly acclaimed trainers, traveling as far as Africa, Hungary, Greece and now Australia.