It's five days before Christmas.  I am out of the country for a month healing, for the third time this year, and manifesting a huge huge miracle.
As a little girl, I grew up in a very religious home in Bolivia where my family was so Catholic, that I needed a Saint name to be baptized.  Therefore my name Maria Yvette. I grew up with so much love and Christmas was a huge time of the year for us.  We believed not so much in Santa Claus, but more in Child Jesus, who would "bring us gifts and joy" on the 25th of December every year.   I would pray to Child Jesus to give me toys and gifts and give my family blessings.  We had a nativity set at our house in La Paz Bolivia and a child Jesus that was passed on to us from generations.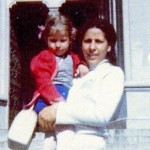 We believed that Christmas was about celebrating his birth, getting the family together, and of course, the kids would get to open gifts.  I would write a letter to Child Jesus every year (like they do to Santa in the US) asking Him to bring me specific toys and gifts, and telling him about my year.  Then my mom would "get the letter" to Child Jesus.  One day, my mom pointed out to me that Child Jesus had opened my letter and she had found it open in his hands.  I started to scream and yell with happiness, telling my friends, "Child Jesus just opened my letter! El nino Jesus abrio mi carta!! It's a miracle! It's a miracle!" I was jumping around the house thanking God and Child Jesus for this miracle…with the biggest joy in my heart!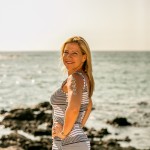 Fast forward, I'm 45 years old and it's been a little time since I realized that Child Jesus didn't physically open my letter.  Bless my hero, my mom Edith Vargas, for giving me so much joy, for teaching me to believe in miracles, she was my miracle!  Thanks to her raising me, she taught me anything was possible, I always grew up positive, believing in God, a higher power, and his ability to bring miracles to my life.
As I stand here today, I'm out of the country, receiving a third round of healing, for the tumor in my jaw, I feel that little girl light up again, I have a miracle! I have a miracle!! I am a miracle!!
I've been a little silent from my blog lately, on purpose, on intention. I wanted to go on a quiet period and stop talking about my illness.   I actually wanted to just stay focused on manifesting a miracle and nothing else.  One of my mentors pointed out that although it's a wonderful thing to share my healing journey and all the details,  there is also power in words and intention and if I kept talking about the illness I would continue to manifest more of that which I didn't want….such wise words!
Here is a powerful statement: worrying is the art of manifesting what you do not want!
So in July of this year I asked my FB family and friends to pray for me and keep the intention of a miracle and I stopped talking or blogging about the illness. A huge prayer vigil started, some of my close friends did prayer circles around the world..and had a new door open in my life…
And then the miracle manifested.  Wise, bountiful, beautiful and gifting, my miracle arrived.   It wasn't wrapped in a bow.  It wasn't an open letter in Child Jesus hands.   It wasn't a gift on Christmas day.  It was a direct message from my Creator and that I was chosen to bring this message of light and love, that I worked so hard, that I would get to experience the wonder of a true miracle.
My condition, ameloblastoma, was incurable.  My condition wasn't treatable by chemotherapy nor radiation.   On top of all the traditional methods to which the only option would be removal of half my bottom jaw in a very very intensive 12 hour surgery and seven day recovery in the hospital, we also tried alternative healing methods for five years, including Reiki, Qigong, chiropractic, acupuncture, healing magnetic therapy, IV therapy, Chinese herbs, homeopathy, alkalinity, healing coaching and so much more than I can actually remember.   I read healing books, I did healing affirmations, I read "You Can Heal Your Life" by Louise Hay, I did the Silva Intensive method, I even recorded my own personal healing affirmations and I listened to those every single day.  One of my affirmations I read and listened to, recorded in my own voice was "I've manifested a miracle the doctors can't explain."   At that time it seemed so far away, untrue and remote. I searched and searched and searched.  The Internet only provided me proof of how complicated my surgery would be, how many people were on their third, fourth, fifth surgery, one girl even on her 16th surgery…at one point my husband asked me to no longer go on Google because I would cry and cry and cry seeing all the lives that have been broken by this terrible condition, ameloblastoma.
About 5 million people a year get diagnosed with cancer in the USA, only 600 cases of ameloblastoma, a very rare, aggressive tumor that grows in the bone (jaw area) until one day you chew and your jaw breaks.  These tumors, according to the traditional medical world, can only be taken care of  by cutting the tumor and a 1 mm circumference around the tumor, so for me, they were going to cut 4 mm from left to right, almost half of my left mandible.
UCLA has been doing the best surgery for this type of tumor for 20 years.  They actually do three surgeries in one shot, and they are known for this, in their cancer center.  The surgery they were going to do included cutting my throat from left to right (ear to ear), using a tracheal tube for me to be able to breathe, lifting the skin like a glove for the surgery, cutting the jaw, at the same time another surgery would be going on, where they would remove my fibula bone (supporting bone leg) and leave a hole there (there's the main bone left), they would transplant the bone to my jaw along with an artery from my leg for blood supply, tie the leg artery to my neck artery in plastic surgery, hope the blood supply continues to the new bone in the jaw, and who knows what after that, by that point I lost track and stopped listening to the details.  Then there would be a couple other surgeries to make sure transplant went good or if something needed to be adjusted, skin grafting (transplant of skin to the inside of my mouth to cover the bone transplant) and later on another surgery for titanium implants.  They said I may be left deformed, or perhaps my cheek might drop, that I may have speech impediments and may need to learn to speak again, and a whole lot more that could go wrong.  They told me I would never be able to run more than one mile max, for those of you who know me, that was devastating as I'm a runner and love to dance.
This surgery was supposed to be a 12 hour process and 7 days in the hospital recovering from the first surgery.  We were ready.  After five years of seeking every healing treatment in the world and spending over $150,000 finding answers and treatments, we resigned to do the surgery, as the tumor had almost tripled in December after a stressful situation I experienced.
I was ready…after five years and we prepared for me to go through the process.  I won't take too long explaining what happened, except it was nothing short of a miracle.  God moved mountains and the surgical team dropped the ball on multiple things, so much that I was totally freaked out to go into surgery with them.  How could they forget to order a new scan since the old one was over six months old?  Were they just going to cut based on an old scan?  How could they forget to ask for blood tests when they were preparing to do a huge 12 hour process?  When I finally reminded them and asked, they said, "just go to your own family doctor for pre-opp blood work."  So I did, Friday before my surgery on Monday.  Then my doctor asked, where is the UCLA paperwork for the blood work?  And they never gave me any.  After many other things that broke down, and us realizing that UCLA should have asked for blood work 4-6 weeks earlier, and this was Friday before surgery, too late to get some results back on time, I called the surgery scheduler, very very concerned.  She proceeded to tell me, "I just spoke to the doctor and you actually don't need any blood tests."  " So come on in on Monday."  Really?  Really?  I mean really?  You're about to cut me up in multiple places and not require any blood work?
My fiery Latina awakened like the Kundalini snake and at that point, Dave was fuming through his ears, like a dragon.  We fired our surgery team.  Never leave anyone determine your destiny, specially if God is guiding you in a different way by showing you resistance!
So Monday, the day after surgery, I was devastated.  I had cleared my entire life to make room for this surgery.  I had cleared many months ahead to be free to heal.  We had shifted everything about our work, our life, even Dave's mom had flown in from Florida to take care of me post surgery.  NOW WHAT?
God guided me beautifully through this process…I went to a chiropractor I love dearly, and she noticed how distraught I was.  I went on to tell her what happened, and she asked a question that changed my life.
The rest of the story will be shared in another blog, a very very special one.  Make sure you give us your email so we can tell you the rest of the story and the behind the scenes on how the miracle took place.  This is a holiday blog, so it would be way too long to tell you the details, but they are coming to you, fast and forward.
For now all I will tell you is I was led to receive alternative treatment out of the country, and just a couple weeks ago, we did an Xray scan, and got the miracle of all miracles.  The tumor shrunk 40%!!!  Not even just that, but it actually broke down into tiny little particles and new bone is regenerating in between along with new membranes and capillaries.  My doctor was blown away and said in her 30 years of being in this field, she has never seen an ameloblastoma shrink!  I can't wait to tell you all about it.  All I can say, is BELIEVE. It can happen to you.  Amidst my worst days were my best experiences.  Amidst my saddest months came my happiest days.  You can always find a GIFT in the worst part of your chaos.
I love each one of you, I honor you, and know, that you are protected.  You are guided and every problem, challenge or chaos brings you an opportunity to pause, take a look at what is no longer working in your life, and re-shift the way you live.  There is no testimony without a test.  Every master had once a disaster.  I thank you all the prayer warriors and friends around the world who prayed along with me for my miracle.  This holiday season, I pray for you.  I pray for your miracle.  May your Creator protect you, love you, and help you with the highest growth for your soul.  May you live a life of excitement, adventure, and always stay uncomfortable, as that is the path that leads to passion. Today I celebrate with you, the miracle of life.  And perhaps, just like that little girl whose letter opened Child Jesus, we can all scream out loud: my miracle has arrived!  My miracle has arrived!  You are the miracle.  Your life is a miracle.  God bless…